EDWARDS, FRED THOMPSON JUMP IN POLLS

Democrat John Edwards and Republican Fred Thompson make the biggest splash in presidential polls released today.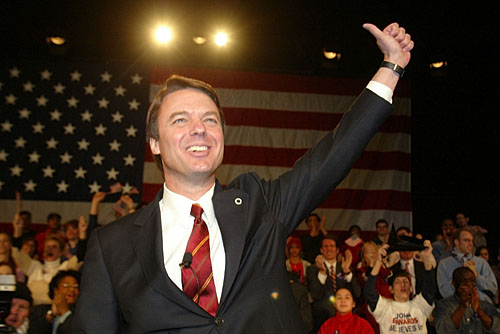 Edwards jumped five points in the latest USA Today/Gallup poll and six points in the weekly Rasmussen Reports Democratic poll, both released today.
Edwards is still fourth among Democrats in the USA Today/Gallup poll, but he is up to 14% from 9% three weeks ago. He trails Hillary Clinton (35%), Barack Obama (22%) and Al Gore (17%).
The poll was conducted Friday to Sunday, just after Edwards' wife Elizabeth announced that she had had a recurrence of cancer.
Given the fact that two out of three of those polled back Edwards' decision to stay in the race (though nearly 40% think he'll eventually have to pull out), the temptation is to consider this a sympathy jump or a reflection of admiration of the Edwardses for their courage.
However, today's Rasmussen Reports poll shows Edwards with a six point jump from the prior week, and the Rasmussen poll was conducted from Monday through Thursday of last week. That means the poll was nearly complete when the Edwardses went public with the cancer news.
It's Obama who took a bit of hit in this poll, dropping five points from last week, and putting him right where he was two weeks ago.
The latest poll shows Clinton in the lead at 37%, Obama at 25% and Edwards at 17%. One week ago Clinton was at 35%, Obama 30% and Edwards 11%
THOMPSON DEBUTS WITH A SPLASH
Actor-turned-senator-turned actor Fred Thompson, who plays District Attorney Arthur Branch on NBC's Law and Order, has not said he's running yet, and in fact he is only in the being-urged-by-freinds-to-do-so stage. But Thompson's been showing up big-time in his first round of polls.
In today's USA Today/Gallup poll he debuts at 12%. That's third behind Rudy Giuliani (31%) and John McCain (22%). Newt Gingrich is fourth at 8%
The Thompson Factor seems to be hurting Giuliani and former Massachusetts Gov. Mitt Romney. Giuliani dropped to 31% from 44% three weeks ago, while Romney dropped to just 3%, from 8% in the previous USA Today/Gallup poll.
We'll find out tomorrow where Thompson places in the weekly Rasmussen Reports Republican poll, but Rasmussen paired him late last week against the top two Democrats in the race, with mixed results.
In a poll released Friday, Thompson essentially tied Clinton in a one-on-one matchup, scoring 43% to Clinton's 44%. Obama topped Thompson one-on-one, 49% to 37%.
In four individual state polls released last week by American Research Group, Thompson is in the low double digits in three of the states (Texas, Iowa and New Hampshire) and finished at 5% in Arkansas, a poll which saw the state's former Gov. Mike Huckabee get a 40% score.
These are somewhat startling numbers for someone who has not announced and just a couple of weeks ago started making noise about giving it a go. They seem to indicate that GOP voters are still wide open to anyone they think they can rally behind.