PEACE ON EARTH, GOODWILL TOWARD MEN!
It is the season of hope after all.
W'd like to wish all of you a Merry Christmas and a Happy New Year!
We'll be away until about Jan. 3 or so, so we thought we'd leave you with this Christmas post.
The national Christmas tree (seen to the left) has been a tradition since 1923, when then-pesident Calvin Cooledge presided over the unveiling of the first national Christmas tree. For more on the events of that day and its preparations, click here
The first national Christmas tree was a 48-footer -- a balsam from Vermont.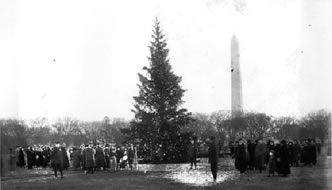 It was donated by the president of Middlebury College in Vermont, Coolidge's home state.
THE WHITE HOUSE TREE
The White House didn't have it's first official Christmas Tree until 1964, when Lyndon Johnson was president. With the holiday having gone seriously corporate by that time, the tree was presented to the White House by the
National Christmas Tree Association.
Besides offering the history of the White House tree, the association's Web site has pretty much every fact you will ever want to know about Christmas trees, several pieces of literature to read as you celebrate the holidays, some tree-related games and puzzles and even some information about evergreen trees and the environment. For instance, did you know that an acre of Christmas trees produces enough daily oxygen for 18 people?
We'll leave you to your merry making with a look at some of the official White House Christmas cards from years gone by and this thought from the current occupier of the White House:
"And so, during these holiday seasons, we thank our blessings."
--George W. Bush Fort Belvoir, Va. Dec. 10 2004
See you again in 2007!