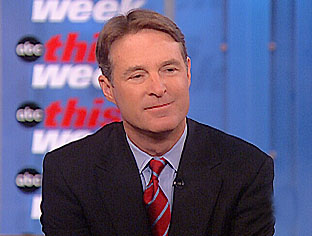 BAYH SETS UP EXPLORATORY COMMITTEE
Indiana Sen. Evan Bayh today announced he is setting up an exploratory committee for a possible run at the Democratic presidential nomination in 2008.
On ABC's "This Week" Bayh said he would announce a decision on whether to run after the holidays.
Bayh plans visits to Iowa and New Hampshire this week. He has about $10 million in his Senate campaign war chest, which can be transferred to a presidential campaign.
VILSACK OFF AND RUNNING
Having already announced his candidacy for the Democratic nomination earlier this week, Iowa Gov. Tom Vilsack is in the middle of a five-state tour to kick off his campaign.
And where better to kick off a campaign than football-mad Pittsburgh - home of the defending Super Bowl Champs, the Steelers. Pittsburgh also happens to be Vilsack's boyhood home.
Vilsack announced his candidacy in Iowa Thursday, headed to New Hampshire Friday and then onto Pittsburgh(which all but the most geographically challenged know is in Pennsylvania) Saturday. He was in Nevada today and will then move on to South Carolina.